In order to popularize the knowledge of earth science and culture, stimulate scientific interest, increase scientific knowledge and create a strong academic atmosphere on campus, on the evening of December 30th, the second Earth Science Knowledge Competition of the Institute was successfully held in the Lecture Hall of the University building 208.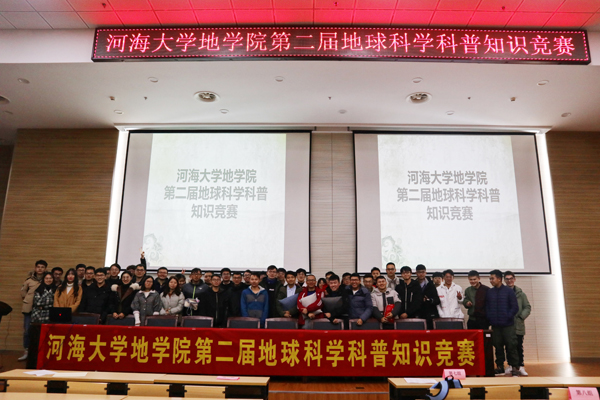 Photo of the participants and staff
This competition had a total of 14 teams, the competition was divided into four rounds. The competition covered geology, geography, surveying and other aspects of knowledge.In the competition, there were single-choice, judgment, multiple selection, video and other forms. The competition also prepared for the team rich prizes and small gifts.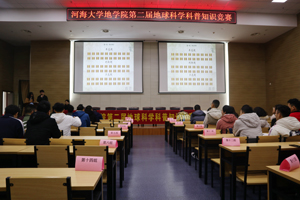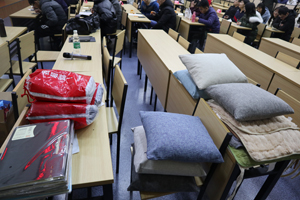 Photos of the competition
So, let's take a look back at some of the highlights of the game.
First, the host introduced the rules and the teams.The competition was divided into four parts: race against time, eye disease and quick hand, treading on thin ice, peak duel.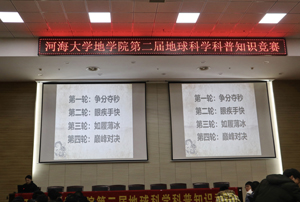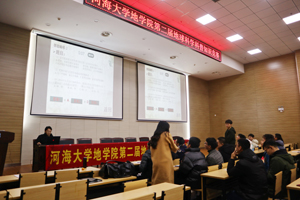 Photos of the competition
Before the game started, the students were already eager and enthusiastic.The first part of the answer the participantswere nervous and cautious, 15 seconds countdown added to the tense atmosphere, the players raced against time to make a careful choice.The second session not only tested the players' ability to respond, but also showed the students' knowledge reserves in many aspects.The third part was treading on thin ice, in which players needed to be cautious, because the topic not only designed different points, but also distinguished the difficulty, and the heavier the point to be more careful.The fourth part of a decisive victory, success or failure in this, the participantswere particularly nervous.Meanwhile, the activity was also interspersed with wonderful interactive links. The participants actively participated in the laughter relieved the tense and serious answering atmosphere.
Finally, after four rounds of fierce competition among the 14 teams, they all achieved excellent results, resulting in 1 first prize group, 2 second prize groups, 3 third prize groups and 5 winning prizes groups.The second earth science knowledge contest ended successfully.
This popular science knowledge competition not only popularized earth science cultural knowledge, but also stimulated students' interest in science, increased their scientific knowledge, created a strong academic atmosphere on campus, and increased students' love for earth knowledge, which was praised by the school leaders and teachers.